주류 유통 이력 확인기
국내 최초 스마트폰(iOS & Android)개발
(iPhone, Samsung Galaxy Series, LG Optimus Series)
국내 출시된 블루투스를 지원하는
모든 스마트폰 사용할 수 있는 시스템입니다.
국내 최초 주류 유통 이력 확인기 개발업체 UTAREX
---
제품 특징
Easy & Simple

사용자의 소중한 SmartPhone을 안전하게 지켜드리는 파우치형 주류 유통 이력 확인기
Stable Recognition Distance

주류 유통 이력 확인기는 안정적이고 빠른 인식이 가장 중요합니다.
빠르고 안정적인 확인기는 유타렉스 SECRET-CODE Series를 만나보세요
Easy One-Button Operation

주류 유통 이력 확인기는 하나의 스위치로 유통 이력을 확인하실수 있습니다.
베터리 잔량 표시 및 손쉬운 블루투스 연결

주류 유통 이력 확인기 베터리 정보를 프로그램상으로 확인가능합니다.
원 클릭으로 스마트폰과 유통 이력 확인기를 쉽게 연경 가능합니다.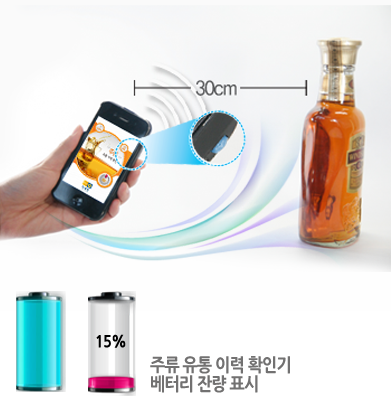 ---
RFID & Barcode Recognition
SMART

Pass the Limit of PDA Using GALAXY & iphone Make full use all of GALAXY & iphone function Easy your working

SMALL

Simple & Easy to use
Ultra slim & Light as air
Real Pocket Size
SENSITIVITY

High RFID Performance
User friendly
Experienced Design
---
Specification
Operating Frequency
917~923Mhz(Korea New Frequency)*Available World Wide*
RF Air Protocol
ISO 18.000-6C(Gen2, Gen2 +RSSI)
Dimensions & Weight
Iphone: 117mm x 61mm x 20mm / 65ga
Galaxy S: 125mm x 66mm x 26mm / 76g
Galaxy S2: 127mm x 68mm x 23mm / 81g
Optimus: 127mm x 68mm x 23mm / 81g
Armband: 88mm x 61mm x 13mm / 77g

Power
3.7V 1,000mAh, Li-Polymer Battery
Output Power
MAX 0.5W
Charge
USB Charge
Battery Life Time
General Over 12hours (Depend on Working Condition)
Continue 4hours / Stand by Over 3months(auto power Saving)
• It will be changed without advance notice.